Nutritious Snack Mix Assortment
Item #
SP-236-GN951-1813806254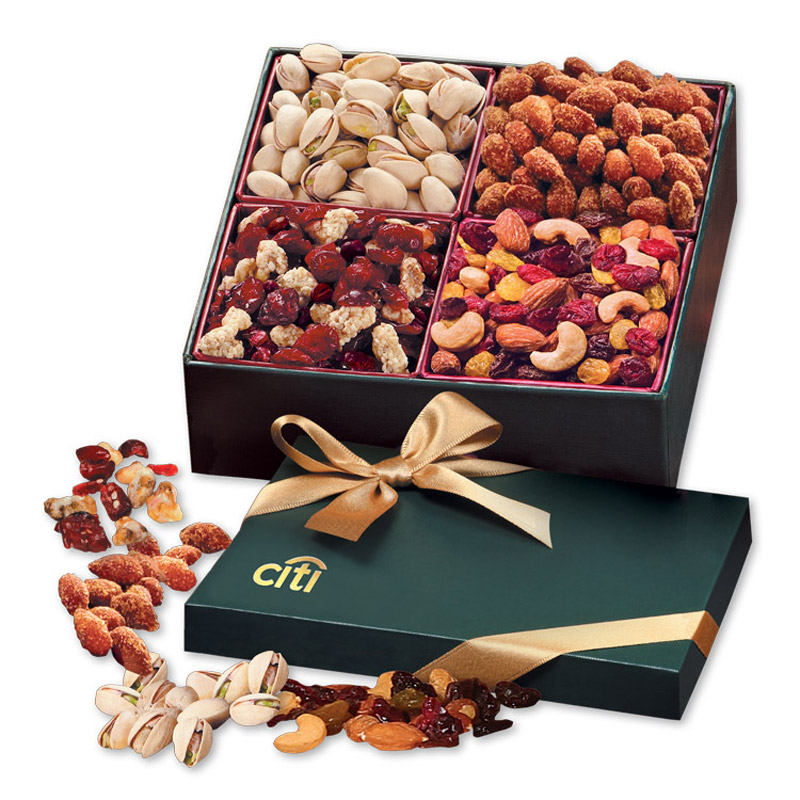 Request a fully customized quote
Naturally tasty and nutritious! We start out with large and crunchy natural pistachios, straight from California, and add our Cranberry & Walnut Mix. Next, we include our Savory Fruit & Nut Mix that includes cranberries, raisins, cashews and hickory smoked almonds. Finally we add BBQ Smoked Almonds that are slowly roasted and lightly seasoned with a zesty BBQ flavor. The perfect combination of expertly-roasted nuts and deliciously-dried fruit giving you that hint of sweetness you crave. Nearly one and one-quarter pounds are packed in a rich, forest green gift box.
Setup Charge
Set-up charge: $50 (C).
Imprint Includes
Price includes imprint foil-stamped in gold on gift box.
Additional Notes I
Ingredient Box: Jumbo California Pistachios, 1/4 lb. BBQ Smoked Almonds, 5 oz. Savory Fruit & Nut Mix, 5 oz. Cranberry Walnut Mix, 5 oz.
Additional Notes II
Maximum size for enclosure cards: 6" x 7".