Shelf-Stable Extravagant Affair
Item #
SP-236-L675-1813806254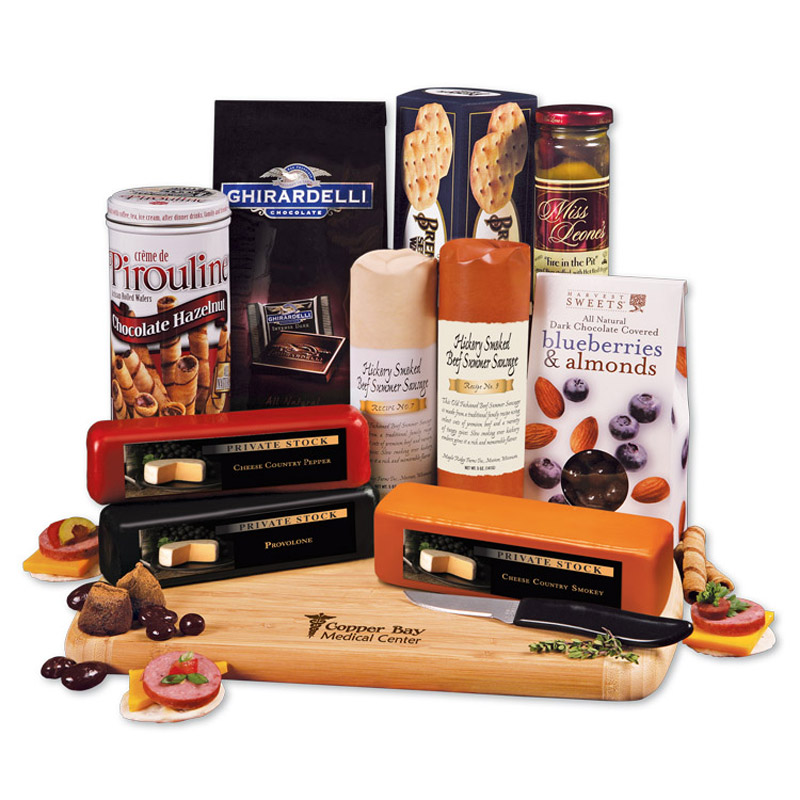 Request a fully customized quote
Here's an extravagant assortment of gourmet provisions that will show your customers and employees how much you appreciate their loyalty! Our earth-friendly Bamboo cutting board, firebranded with your logo, is perfect for serving this epicurean feast. Long after the gourmet treats have been enjoyed, the cutting board will be a lasting reminder of your gift. Serves 14-18.
Setup Charge
Set-up charge: $50 (C).
Imprint Includes
Price includes firebranded imprint on board.
Additional Notes I
Ingredient Box: Private Stock Mild Pepper Cheese, 7 oz. Private Stock Provolone, 7 oz. Private Stock Smoked Cheddar, 7 oz. Beef Summer Sausage, 5 oz. Smoked Turkey Sausage, 5 oz. Water Crackers, 2 oz. Pirouline Chocolate Cookies, 3.25 oz. Ghirardelli© Cho