Chocolate Elegance
Item #
SP-236-GN948-1813806254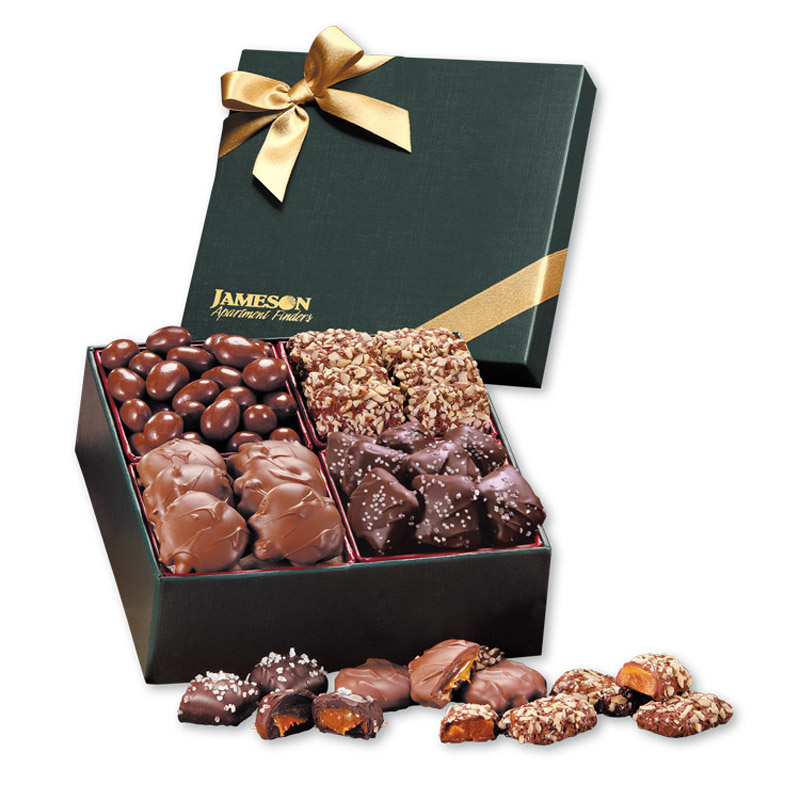 Request a fully customized quote
This is a chocolate lover's dream come true! We fill this elegant, deep green gift box with a mouth-watering collection of the finest premium chocolates: five-ounces of crunchy English Butter Toffee, six-ounces of mouth-watering Pecan Turtles, five-ounces of our famous Chocolate Covered Almonds, and four and three-quarter ounces of Chocolate Sea Salt Caramels. What could top that? Then we foil-stamp your logo in gold on the lower left corner of the gift box and tie it together with a gold ribbon and bow.
Setup Charge
Set-up charge: $50 (C).
Imprint Includes
Price includes imprint foil-stamped in gold on gift box.
Additional Notes I
Ingredient Box: English Butter Toffee, 5 oz. (12 pieces) Pecan Turtles, 6 oz. (12 pieces) Chocolate Covered Almonds, 5 oz. Chocolate Sea Salt Caramels, 4.75 oz. (8 pieces)
Additional Notes II
Maximum size for enclosure cards: 6" x 7".